Julia Ungureanu - violin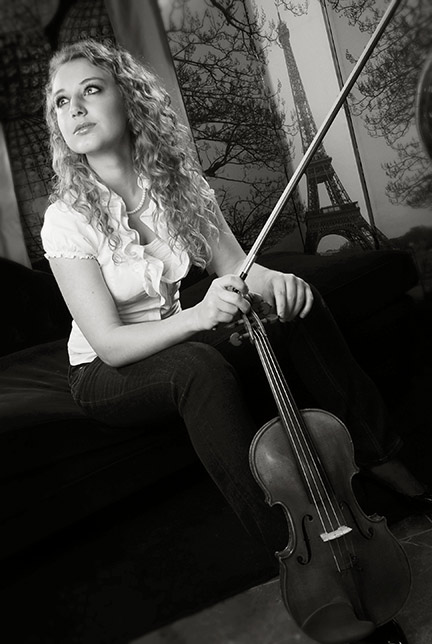 Julia Ungureanu, born in Bad Dürkheim/Germany in 1992, began playing the violin at the age of three and received her earliest violin lessons from her parents. In 2006 she started studying at the 'Pre-College Cologne – Ausbildungszentrum für musikalisch Hochbegabte der Hochschule für Musik und Tanz Köln' in Cologne. 2008 she was accepted as a regular student in the class of Prof. Axel Gerhardt (Berliner Philharmoniker) at the 'Universität der Künste Berlin'. In Oktober 2010, Julia pursued her education with Prof. Nachum Erlich, an alumnus of Max Rostal, at the University of Music Karlsruhe/Germany. She graduated with distinction this summer and will continue her master-studies in Karlsruhe in October 2012. She attended several violin and chamber music masterclasses of Friedemann Eichhorn, Gerhard Mantel, Arbo Valdma, Mihaela Martin, Saschko Gawriloff, Stephen Shipps, Radoslaw Szulc, Gregory Pauk, Jae Park, Rodney Friend and had the honor to playing for the world-renowned Violinsoloist Ida Haendel.
Since 1998 the young violinist won numerous national and international prizes, including 2nd prize at the "Concours International de Violon Alexander Glasunow" in Paris and the 1st prize at the Karel Kunc Chamber Music Competition where she was also awarded with the special prize of the Wolfgang Hofmann Foundation. Furthermore, she won a 2nd prize at the Lions Club Music Competition and was a finalist at the "International Music Competition Jeunesses Musicales" in Bukarest/ Romania. In the famous German national competition "Jugend musiziert" she won numerous 1 st prizes as a soloist and in several chamber music ensembles, most recently in a trio with her two brothers. In addition to the first prize with the maximum possible score they were awarded with the "Sparkassen special prize".
She gave her first public concert at the age of five, three years later, she gave her debut as soloist with an orchestra. In the same year, Julia started her orchestral career with the 'Jugend-Sinfonie-Orchester Mannheim', where the eight-year-old had the chance to play Maurice Ravel's Boléro as concertmistress. In all following orchestras she was shortly assigned into leading positions, for example in the "Jeunesses musicales" Orchester Österreich, the Youth Orchestras of Rheinland - Pfalz and Hessen, the Youth Chamber Orchestra Sion, the orchestras of the Universities of Music in Cologne, Berlin and Karlsruhe, the German-French Orchestra Berlin and most recently the Chamber Orchestra of the University of Music Karlsruhe. Since 2007, the young musician was able to give concerts under direction of famous conductors like Sir Simon Rattle, Kirill Petrenko and Dennis Russell Davies, as well as in the National Youth Orchestra of Germany, where she was appointed as concertmistress in 2010.
So far, her career as a musician includes concerts and tours to France, Belgium, Romania, Austria, Switzerland, Italy, Liechtenstein, South Africa and Israel. Her large and diversified repertoire comprises the typical violin repertoire, as well as most of the significant orchestral works, chamber music works and salon music. Moreover, Julia is a passionate Crossover and Jazz player. In this context, she played at the "Jazztreff Berlin" and recorded several Pop- and Rock tracks. She already had many TV appearances at German broadcast stations such as ZDF, rbb, SWR, WDR and RTL, where she played with celebrities like Peter Fox or STING.
Julia Ungureanu was a scholar of the International Foundation "Musik & Jugend Liechtenstein" and "Ad Infinitum" Berlin. Currently, she plays on the Joannes Franciscus Pressendafrom 1843, kindly provided by the Instrument Foundation of Baden- Württemberg.