Yuval Gotlibovich - viola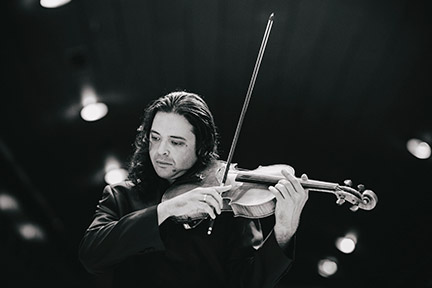 A native of Israel, Viola player and Composer Gotlibovich holds first Prizes at the "international Lionel Tertis Viola Competition","Aviv" Competition as well as the "Fischoff" Chamber Music Competition.
He played as a soloist with the Jerusalem Symphony Orchestra, the Tel Aviv Soloists Ensemble, Texas Festival Orchestra and the Ostrobothnian chamber orchestra . He has collaborated in Chamber Music with world renowned artists such as: Menachem Pressler, Marc Andre Hamelin, George Pludermacher, Nubuko Imai, Natalia Gutman, Janos Starker and Mischa Maisky among others and appeared in recital in Wigmore Hall, London, and the Kennedy Center in Washington. He is a regular guest in Europe's leading chamber music festivals.
His Composition 'Behind the Mirror' commissioned by the Holstebro International Music Festival was premiered by Janne Thomsen, Lars Anders Tomtrer, Zorn Markovic in collaboration with the 'Odin' Theatre Company. Gotlibovich composed music for two feature films of the silent film era, commissioned by 'Are More' festival in Galicia and played in numerous film and music festivals. 'Pieces' for cello solo, for Erica Weiss was premiered this year by Weiss in the Chamber Music in San Pere series in Barcelona.
His playing is featured on XXI records including a premiere recording of Jean Francaix Rhapsodie for viola and piano in its original version, Verso records with premiere recordings of chamber music of Fabian Panisello and Raster-Noton on DVD and CD format with Ensemble Modern, Alva Nota and Ryuichi Sakamoto. Sony Classical International recently released a new album, featuring his arragments of Bach's Goldberg variations in different musical styles in collaboration with the Garnati Ensemble.
Gotlibovich has worked with such composers as Penderecki, Dutilleux and Gubaidulina, premiered viola concerti dedicated to him by Alexandre Eisenberg and Justin Merritt and has collaborated with new music ensembles such as Ensemble Modern, Calisto, Meitar, Bcn 216 and Ictus.
Gotlibovich was the youngest Professor on the faculty of Indiana University. Currently he works as Professor in Conservatorio della Svizzera Italiana, Lugano and Escola Superior de Musica, Catalunia.
His main teachers include Atar Arad and Anna Rasnovsky.